Drug and Alcohol Rehab in Hampshire
Drug and Alcohol Rehab in Hampshire
Unfortunately, those who are addicted to drugs and alcohol are often stigmatized by society. Many people assume those addicted to drugs and alcohol are to blame for their problems. This view often forces those affected by addiction to build up the denial and to thus hide away from their problems.
This is tragic, particularly because there exist a number of treatment options in Hampshire capable of arresting and reversing the ill-effects of addiction with months or even weeks.
Many people suffering from drug and alcohol addiction often do not fit within the stereotype of somebody in their situation. Contrary to popular belief, the vast majority of people suffering from addiction are not homeless. Nor are these people lazy, unemployed, or unproductive.
In fact, many people suffering from addiction in Hampshire are highly functioning individuals. The positions these people often hold in society makes it even harder to seek out professional assistance to help to treat their addiction.
The fact that many people do not fit society's stereotype of an 'addict' may mean a person continues with his or her addiction for many years before treatment is sought. The addiction is usually allowed to continue unopposed until the person hits 'rock bottom'.
When this occurs, the addiction usually inflicts an untold amount of damage to the person's mental and physical health.
Help For Alcohol Addiction In Hampshire
Alcohol addiction is by far the most prevalent form of addiction in Hampshire. Last year, there were over 15,000 hospital admissions attributable to alcohol use in Hampshire. Many of these people will suffer from acute alcoholism and require medium to long-term rehabilitation.
Unfortunately, the NHS typically only provides these people with short-term detoxification treatment. This level of treatment is rarely sufficient to assist these people in achieving their long-term recovery goals.
Private rehab clinics plug this gap by offering affordable yet highly effective alcohol addiction treatments in Hampshire. There exists a number of treatment clinics in Newport, Portsmouth, Winchester, Basingstoke, Southampton and Bournemouth.
Many of these clinics offer tailored residential care. You typically stay in rehab for around 10-28 days. During this time, you will benefit from daily therapy sessions. These sessions help treat psychological trauma that's typically the underlying cause of alcoholism.
You also benefit from a medically assisted detox programme. This helps your withdrawal from alcohol without experiencing dangerous and uncomforting withdrawal symptoms.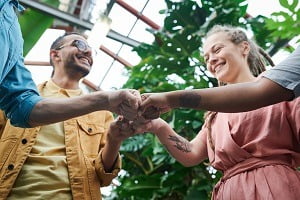 Help For Drug Addiction In Hampshire
Whilst not as prevalent as alcoholism, unfortunately, Hampshire is no stranger to drug addiction. Each year, hundreds of people die from drug poisoning in Hampshire and many more continue to take drugs despite the negative implications this brings to their health, wealth, and relationships.
When drug addiction takes hold, the person affected may express denial about the existence of his or her addiction. This person may reason they have 'got a hold' of the situation and that professional help is not called for. Similar to alcoholism, people suffering drug addiction may not call out for help until 'rock bottom' has been hit.
Overall drug addiction has somewhat decreased over the last decade in Hampshire. However, statutory services have seen their budgets slashed in the ensuing austerity environment imposed by the Central Government. Since 2012, statutory drug services have transferred from the NHS to local councils.
Unlike the NHS, the budget for addiction services through councils is not ring-fenced.
This has allowed councils across the UK to slash addiction services without any scrutiny from experts. Many experts now criticize these cuts as dangerous and hold the cuts responsible for reversing the decade long trend which saw drug-related deaths decrease year on year.
Fortunately, there exist many tailored drug addiction treatment services in Hampshire.
These services are offered through statutory bodies, charities, and privately-held companies. These clinics treat addiction to a range of drugs including opiates, cocaine, cannabis, prescription medications, and amphetamines.
When you contact Rehab Recovery, we conduct a telephone assessment. Here, we collect information concerning your needs. We then work to place you in a treatment clinic in Hampshire that's best placed to helping you eliminate your drug addiction for good.
What Is The Rehab Process?
Rehabilitation generally takes place in a rehab Hampshire facility and is always under the direction of medical professionals who are trained to understand the effects of substance abuse. In addition to assisting during the actual withdrawal period, they are also able to help create a plan for continued sobriety after you leave the facility. You want to make sure you find a facility that will work for you and your unique needs.
Being in a rehab includes treatments, medications, and a structured setting to make it easier to remain sober and work towards creating healthy coping skills that will help you out in the real world so that you can continue abstaining once you leave rehab. The therapists and doctors will guide you towards success during your stay and then continue providing support afterwards.
The intake process consists of an interview during which time a complete mental and physical health history is taken. Then you will be informed of what programmes are currently available to assist you through the detox period.
The doctor will determine if you will need any subscriptions to help you through the worst of the withdrawal, and then you will work together to establish a treatment plan.
What are the Rehab Goals?
Whatever your choice of treatment, the goals of inpatient and outpatient rehab remain the same: to get you sober. Here are the top priorities of any rehab programme:
Goal 1: Reduce or eliminate substance abuse to create a long-term sober living environment
Goal 2: A wholistic focus on recovery including many therapy options, medication prescriptions, and a guaranteed recovery plan
Goal 3: Prevention of relapse. The majority of people who maintain a sober lifestyle go through a rehabilitation facility first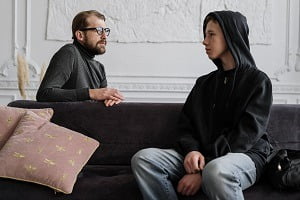 Weighing Up the Pros and Cons of Inpatient vs. Outpatient Detox
Not everyone experiencing withdrawal is able or willing to attend an inpatient rehab in the Hampshire facility, but it dramatically increases the odds of long-term sobriety. Below are a few comparisons to help guide you towards choosing which is best for your situation:
1. Inpatient Detox
Pros
24/7 supervision and support
Medication to help alleviate side-effects
Professionally supervised detox
Focus on therapy after the detox period is complete
Multiple therapy options to assist with recovery
Help with creating a healthy support structure
A personalized treatment plan for your entire recovery with accompanying therapy
Cons
It is not always covered by insurance
Specific programmes can be quite expensive
2. Outpatient Detox
Pros
You are at home in a familiar environment
Less expensive
Weekly routines and appointments
Shorter withdrawal period without the use of medications to help ease the way
Cons
Worse symptoms (potentially life-threatening in some cases) without medication
Much fewer services offered
No around the clock care
It takes much more dedication since you have to motivate yourself through everything without the experienced support you would get with inpatient
Getting Help For Family Members
Perhaps a family member suffers from an addiction to drugs and alcohol and you are struggling to determine how to help. If your family member is highly functioning, it's likely he or she will deny the existence of the addiction.
When this is the case, you may benefit from our interventionist service. Here, one of our advisors will visit your home several times over a number of weeks to assist your loved one in accepting his or her addiction.
We then work out the best possible way forward in terms of seeking out residential or outpatient treatment in Hampshire.
Can You Force Someone to Go to Rehab?
There are a couple of ways to approach this, but for this article, we will assume that they have not come to you asking for help.
In that case, you want to talk to them about their behaviour and how their substance abuse is affecting their everyday life. You do not want to use confrontational tactics.
Here are a few useful steps to use when setting up a time and place to talk to them about this subject.
Make it a neutral, safe, comfortable environment for them and yourself. This is a difficult thing to talk about, and increasing the anxiety by doing it in front of others or in a place where they may not feel comfortable will not help
Be prepared to be completely honest, open, and calm, no matter how they react to the situation. You are the one initiating it, and keeping things level and on-topic will help you both
Listen to them. Even if you do not agree with what they are saying if they choose to respond, then listen
It is best if you can speak to them at a time when they are sober and not under the effects of drugs or alcohol, as that will impact their ability to understand what is going on around them
Do research first so that you have multiple treatment options available for them to look at if they are interested
If you try those steps and it does not work, or you are not sure how exactly to go about communicating openly and then it is recommended that you speak with a professional. Some people are trained to do interventions, and you can hire one or simply talk with one to get a clearer idea of what to expect.
Understanding Withdrawal
The first stage of withdrawal is detox. During this time, your body is missing the chemicals provided by the drugs, and this will affect neurotransmitters and specific organs like the liver.
Detox generally lasts 7-10 days, and the symptoms can be very severe in some cases including hallucinations, seizures, and death in rare circumstances without proper medical supervision.
Although withdrawal is often considered unpleasant, the fear of experiencing it should not put anyone off seeking treatment. Withdrawal symptoms last for days – but the effects of prolonged substance abuse can last a lifetime.
Ending Drug Addiction With Medication
While in a rehab Hampshire facility, you will be able to receive 24/7 care and medication assistance for the worst of the withdrawal symptoms. Your doctor will help ensure that you get the right kind of medications at the correct doses so that you are not trading one addiction for another.
Types of Therapy for Addiction
Detox is the first stage of any recovery programme, and the second is therapy. Counselling and therapy allow you to work through the issues that led to addiction in the first place. Without getting to the root of your addiction, and unravelling all other issues it gave rise to, true recovery is not possible.
You will be able to choose from a variety of therapies during our inpatient treatment programmes. The most popular are:
Cognitive Behavioural Therapy focuses on changing behaviours and learning positive coping skills
Dialectical Behaviour Therapy helps people who have turned to drugs or alcohol due to a deficit in their ability to express their emotions and assists in creating healthy ways to overcome overwhelming emotional responses
The Matrix Model creates a structured framework for remaining sober that is research-based and includes educating people about all aspects of addiction and recovery to give the best chance at staying sober
Motivational Enhancement Therapy helps the person find their internal motivation for remaining sober and uses that to power through the recovery process
Community Reinforcement is a physical reward-based programme that gives reinforcement rewards for positive behaviours and choices (e.g., abstaining for certain period results in a voucher to an event). This helps to create avoidance strategies that work
Family Behaviour Therapy: many times, the whole family has been affected by one person's drug or alcohol addiction. Family therapy allows interpersonal relationships to heal and a strong support structure to be created to help with continued sobriety
What is Aftercare and How Do You Create an Aftercare Plan?
Aftercare plans are created at the very beginning of treatment before the programme starts, which leaves you with an end goal to work towards achieving. This is arguably the most vital aspect of recovery as it will help you cope in the real world outside of a facility and gives you control back within your home environment.
Here are a few basic aftercare plans that are often utilized for people to use when they complete their rehab Hampshire programme.
Continued use of facility therapy options in weekly sessions
Routine medical check-ups to monitor medication usage and necessary changes
If your home is not a safe or supportive environment then using a sober living house temporarily
Attending weekly 1:1 therapy sessions
Attending weekly 12-step group meetings and other community-based self-help support groups
Using a sponsor to enhance and broaden your support structure
Over fifty per cent of people relapse during the aftercare period because they lose their motivation or let their attendance to therapies and meetings lapse.
Take this part of your recovery seriously and use all the advantages and resources available in your community for the best chance at long-term sobriety.