Drug and Alcohol Rehab in Kent
Drug and Alcohol Rehab in Kent
Rehab Recovery offers drug and alcohol addiction treatment services in Kent in South East England. Those suffering from alcoholism or drug addiction generally get in touch with Rehab Recovery following a series of negative incidents directly attributable to their drinking or substance use. Alcohol and substance rehabilitation aim to reverse the damage caused by addiction and restore a healthy and productive lifestyle.
What Can We Do For You?
By being open and honest from the start and approaching your recovery programme with confidence and sincerity, there's no telling how much progress can be made through a well-constructed treatment programme.
Let the professionals work to assess your conditions, giving you psychological and physiological insights to help determine the best way forward. Once you've identified the negative thoughts and emotions that fuel your addiction, you'll be better prepared to develop the necessary habits and mindset for keeping them at bay.
Below we outline exactly what happens once you contact Rehab Recovery for your own or your loved one's alcoholism or substance use.
The Rehab In Kent Process
When you contact Rehab Recovery for substance and alcohol treatment in Kent, a short assessment is conducted by our admissions team. An admissions advisor determines the nature and possible severity of your addiction and the potential for withdrawal symptoms. Signs of alcoholism and drug addiction include intense cravings for alcohol or substances and the onset of withdrawal symptoms when consumption ceases.
Rehab Recovery's admission advisors follow a strict assessment procedure to identify these symptoms. This helps our admissions team determine the severity of your addiction to alcohol or other substances. This ensures our team can meet your needs.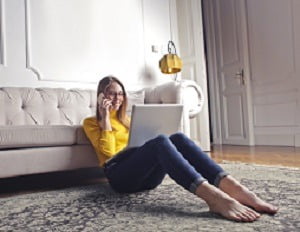 What Happens After The Initial Assessment
Following this short assessment, our admissions team shall advise on the most appropriate treatment plan fitting your exact needs in Kent. The majority of clients will require a medically assisted detoxification programme.
This programme is provided for under strict observation. This ensures you are safe should severe withdrawal symptoms occur. These symptoms include seizure and cardiac arrest. You will be given prescription medication to help treat withdrawal symptoms as much as possible.
During your detox programme, you will also benefit from counselling and therapy sessions. These sessions seek to address the mental causes of drug and alcohol addiction. Along with more traditional forms of psychotherapy and cognitive therapy, we also offer a range of holistic and complementary therapies. These therapies include acupuncture, meditation and yoga.
What is Inpatient Treatment VS Outpatient Treatment?
When it comes to entering a treatment programme, two main options exist, each suited to an individual set of needs and lifestyle. Those looking for a more in-depth and intensive level of care will likely feel compelled to enrol in an inpatient treatment programme that lets them dedicate the much-needed time and attention on their recovery.
For others, it may be more appropriate to take part in an outpatient programme that enables them to continue in their daily job or lifestyle while still providing the focus they need for solving their more manageable addiction issues.
Benefits of a Medically-Assisted Detox At Rehab In Kent
The detoxification process and the transition into a drug-free way of life can be stressful on the body and create anxiety within the patient. However, with proper supervision and a robust strategy for acclimating them to their new lifestyle, these symptoms can be mitigated.
A medically-assisted detoxification process encourages a safe and healthy way to break away from harmful and addictive tendencies, preventing symptoms from posing a serious health risk and keeping pain to a minimum along the way. This is an ideal way to tackle the detoxification process, allowing for proper oversight and the necessary level of care throughout the entire process.
What Types of Therapy Can I Access?
For those in rehab, several options exist regarding different forms of therapy for achieving optimal results. The most common, Cognitive Behavioural Therapy (CBT), involves psychoanalysis to recognize destructive thoughts and replace them with ones that are healthy and constructive.
A more reflective and introspective approach, Rational Emotive Behaviour Therapy, or "REBT" brings the focus on harmful behaviours such as abusing drugs and attempts to replace them with healthy, non-addictive activities the patient can perform for a healthier state of emotional and physical well-being.
Many more types of therapies seek to address the latent effects of early traumas, or building a robust atmosphere of support among close and influential family members.
5 Reasons to go to Rehab in Kent
Facing the problem of addiction can be a troubling time, but it doesn't have to be without help. Having the right perspective while entering a treatment programme can go a long way toward making the difference between success and failure. Here are some top reasons why choosing a rehabilitation programme may be the smart move and things to keep in mind during your journey:
Financial Stability – the cost of a condition can continue to add up and be a strong hindrance to gaining the level of financial independence and freedom that you want. Seeking the support and discipline can be a great opportunity to regain the level of prosperity that's been lost to drugs and alcohol
Repairing Damaged Relationships – The obsessive nature of addiction can lead to devastating consequences in one's personal and family environment, causing lost friendships and deep divides along the way. By taking advantage of a treatment programme, one can regain a clear perspective about these issues, and get back on the path toward healthy and positive relationships
Building a Support System – Creating a foundation where positive ideas, rather than the abuse of alcohol or narcotic substances, is prevalent, leads to a healthier and more productive way of life. Entering a quality rehab programme can be a great way to reintroduce these core values
Understand Why You Are Addicted – many times, those lost within the prongs of addiction are completely unaware of the underlying issues that drive the urge to use or abuse substances. By taking part in a quality rehabilitation programme, you can come to terms with these core issues and become more aware of them to prevent your addiction from overtaking your life
Save Your Life – continuing to ignore your addiction can have devastating consequences that could include death as a result. Don't put your life at risk. Get in touch with a qualified rehabilitation programme that can help to protect your health and well-being today
The Keys to Finding the Best Treatment Programme for You
Finding the right treatment programme requires assessing your situation as well as the available options that lie before you. If your problems are consuming all of your time and energy, it's probably wise to invest in the greater degree of care provided by an inpatient programme.
Consult with the qualified professionals who will be able to help you determine the best strategy, and lead you down the path toward finding the right health programme for you.
Twelve Steps and Other Alternatives
We also offer you guidance relating to the Twelve Steps of Recovery. This framework helps millions of people remain in recovery across the Globe. This framework was first established in 1937 in the United States. Once you are within the '12 Step' cycle, you may attend Alcoholics Anonymous or Narcotics Anonymous support groups taking place across Kent.
The '12 Step Fellowship' is a worldwide network of support groups. Here, one fellow 'addict' helps another to remain in recovery. We also provide you with training in rational-emotive behaviour therapy (REBT). This model is supported by SMART Recovery. This is the UK's most popular 'non-12-step' alternative.
Unrivalled Addiction Treatment At Our Rehabs in Kent
At Rehab Recovery, we believe the treatment we offer for addiction in Kent truly is unrivalled. For your own sake and the sake of the people you love, we urge you to contact us today on 0800 088 66 86 so you may begin taking advantage of the specialist addiction treatment we offer in Kent.
The addiction treatment we offer in Kent will grasp you by the hand, look you in the eye and start off by telling you that you are not worthless and that you can have a future without drugs or alcohol. In plain, simple language, the therapy and counselling will reveal:
How to identify negative emotions without resorting to alcohol or drug use
Four little-known relapse prevention techniques you can use to avoid cravings when you are out and about
The number one cause of addiction and how you can avoid it for good
The best way to avoid people in your life who threaten your recovery
How to manage your emotions in positive ways
How to fill the void in your life created by your recovery
7 ways to tackle anxiety and depression without taking medication
How to understand and negate the negative power of past traumatic events
How to understand the neuroscience of addiction so you can really understand cravings
The drug and alcohol rehabilitation treatment we offer in Kent is jam-packed with actionable tools you can use today to take back your life and live in recovery for many years to come. We offer you a tangible, step-by-step system for staying in recovery, and this system does not require any special skill or knowledge to succeed. All you require is motivation and a strong desire to succeed.
Achieving Long-Term Recovery Goals
By the time you have completed our treatment programme in Kent, you will be better, stronger, bolder and braver in tackling your recovery goals. We believe that you can learn and that you can succeed in your recovery. By the time you have completed this treatment, you will believe that you can succeed in recovery, and at the end of the day, that's all that really matters.
This treatment we offer in Kent will truly surprise you in a thousand different ways. You will notice truisms about yourself and your mindset that have held you back in life. You will begin to overcome and defeat these limitations so your recovery may flourish.
What Happens After Rehab In Kent?
After leaving rehab, the real work begins for staying sober and finding positive alternatives to replace your once harmful lifestyle. Following up with a regular aftercare programme can be a great way to solidify the progress made within your treatment programme, as well as seeking out like-minded friends who are also on the path of sobriety.
Having a long-term strategy in place with clearly defined goals is a smart approach to establishing a framework for success long into the future. Make the effort to regain the ground lost to your addiction, and find new opportunities that were once never available.
FAQS
It's common for patients to have any questions regarding the subject of entering a new treatment programme, some of which may include:
Does the treatment centre offer a variety of available programmes? Take note of what programmes are available so you can make sure to obtain the care you need
What does the programme cost? Gain a full understanding of what's included in the costs involved so you pay for the level of quality and results you deserve
Is the programme medically based? Having physicians and nurses nearby means you'll never be without the qualified and targeted help that you need
To what degree is the patient's family involved in the programme? Alcoholism and addiction have an impact on the entire family, and as a result, it may be wise to involve them in your recovery strategies
Does treatment include a continuing care programme? The road to recovery is an ongoing process that doesn't end upon leaving the treatment facility, and having a structure in place is a great way to position oneself for success