Drug & Alcohol Rehab Hertfordshire
Drug & Alcohol Rehab Hertfordshire
Rehab Recovery offers free and confidential advice for people suffering from drug and alcohol addiction in Hertfordshire. Although we do not directly provide treatment ourselves, we assist thousands of individuals in making the correct route to sobriety. How? We begin to help you when you contact us over the telephone. You may do so by dialling 0800 088 66 86.
When you contact Rehab Recovery, we carry out a free initial assessment. Here, we determine the nature of your addiction, your personal needs, and your personality profile. Based on this information, we then draw on our database of hundreds of treatment providers in Hertfordshire and match your needs to the most appropriate providers. This ensures the chances of treatment success are maximised.
Rehab Recovery offers this service entirely free of charge. Rehab Recovery is run by volunteers who have defeated their own addiction to drugs and alcohol in the past. This means we are highly understanding and empathetic to your situation.
We know seeking out professional help isn't easy. You may not even fully acknowledge the need for professional treatment. Our initial assessment seeks to help you overcome your initial fears and resistance, whilst also explaining the exact reasons why professional treatment is required.
Addiction: A Disease Of The Mind
Addiction is often known as a 'disease of the mind.' This is because addiction is often a form of 'self-medication' used to cover up negative thoughts. These negative thoughts are usually the result of sexual or physical abuse suffered during the addict's early years. For these reasons, addiction must be considered a symptom rather than the cause of the sufferer's problems.
To overcome the cause of the sufferer's problems, addiction treatment must, therefore, focus on counselling and therapy sessions. These sessions aim to treat the underlying mental causes of addiction. When you contact Rehab Recovery, we ensure you receive counselling and therapy sessions that are best suited to helping you overcome your mental issues.
There exist many hundreds of competing counselling and therapy techniques, and choosing the correct techniques is often difficult if you lack an advanced degree in psychology. Fortunately, Rehab Recovery assesses your needs and then ensures you attend a rehab clinic offering therapy and counselling that's tailored to your needs.
Do You Need Inpatient Rehab?
Inpatient rehab can be beneficial to anyone who suffers from addiction, but there are a few factors that can make it more important to some people. First, anyone who is considered to be at high risk of experiencing withdrawal should highly consider entering an inpatient treatment because withdrawal is when most relapses happen and can be dangerous if not monitored medically.
Second, people who have experienced a relapse as it is clear that they need more help/support than what they previously received or were currently receiving. Finally, those who a less intensive treatment program was not working for.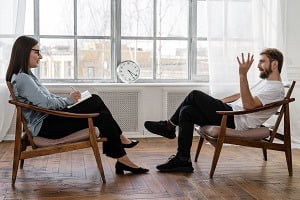 Rehab In Hertfordshire: The Options
Rehab Recovery offers a wide variety of treatment options in Hertfordshire. Each of these treatments offer their own particular advantages.
The most popular treatment option is perhaps the most effective. This is known as 'residential treatment'. As the name suggests, residential treatment requires you to move into the rehab clinic whilst you undergo your treatment.
There exist many such clinics in the Herefordshire area. When you contact Rehab Recovery, we will help you select a rehab clinic that's both affordable and suitable for your needs. This approach ensures you avoid rehab clinics that may not be best optimised in meeting your needs.
The second most popular treatment option in Hertfordshire is known as 'outpatient treatment'. Here, you receive treatment during the day and return home during the evening. The chief drawback of this sort of treatment is that you are not removed from temptation whilst undergoing treatment. For this reason, outpatient treatment is known for its high relapse rate.
However, outpatient treatment is highly effective when combined with residential treatment. This means you receive residential treatment between 2-5 weeks, and then receive follow up treatment on an outpatient basis for a further 6-12 months. On this basis, outpatient treatment is highly effective in ensuring relapse does not occur during your first 12-months of sobriety.
What Are The Benefits of Private Treatment?
There are many reasons why private treatment is considered to be one of the most successful treatment options for those who suffer from addiction. These are outlined in the table below:
1. No Distractions
First of all, when a person enters a treatment center, they remove themselves from everyday stressors and distractions that can prevent a person from focusing on recovery and staying sober.
2. Tailored Approach
Second, treatment plans at private facilities are generally provided on a case-by-case basis for each patient, which means it is designed to help a specific person, with their specific circumstances.
Other treatment options generally take a more one-size-fits-all approach, which is just generally not as successful for everyone.
3. Medical Care
Finally, in a private treatment center, a person has access to 24/7 support by a team of professionals trained to help them through the recovery process.
4. Peer Support
During your inpatient stay, you will be sharing facilities and resources with people in a similar situation. Using this network of people for your own recovery has proven benefits, and private rehab often helps form bonds for life.
5. Trigger-Free Environment
In comparison to outpatient treatment, residential rehab offers a completely secure and safe surrounding. It does not enable recovering addicts to fall into old habits or meet up with negative people. It is impossible during inpatient treatment to run into situations where one might be 'tempted' to relapse."
The Admissions Process For Rehab In Hertfordshire
When you decided to enter treatment, the first step is to reach out to a treatment provider or centre. If you are looking for a centre for a loved one, you should complete this step before completing any kind of intervention. You may have to reach out to several facilities to find one that works for you.
You can ask questions about their treatment methods, amenities, and services. You can also ask questions about cost and insurance policies. After you pick a treatment centre, the patient will undergo a pre-intake screening, which is usually done over the phone before the patient arrives at the facility.
This will help the patient and provider evaluate whether they are a good fit, evaluate the level of care required, and learn important baseline information about the patient. After this, a person can schedule a time to be dropped off at the facility (it is important to secure these travel arrangements ahead of time.)
What to Expect from Inpatient Drug and Alcohol Rehab?
Inpatient rehab usually starts with a medical detox (detox with the aid and supervision of medical professionals) and then personalized treatment. This personalized treatment is created after careful evaluation of a patient's circumstance and generally includes various kinds of therapy.
It can also include specific therapeutic activities, a diet plan, an exercise plan, and medicine if needed. This plan will be completed by the patient with the aid of a team of professionals, including doctors, nurses, therapists, psychiatrists, psychologists, nutritionists, etc.
How Long is Inpatient Rehab In Hertfordshire?
The length of inpatient rehab depends a lot on an individual's situation. Some people will only spend a few weeks in rehab, while others may spend months or even a year or more. Often, a medical professional can give you a time estimate after initial screening, but discharge is generally decided by milestones a patient reaches, not a specific time.
A combination of counsellors and doctors will decide when each patient is ready to be released. Remember, the discharge does not mean all treatment is over.
How Much Does Inpatient Addiction Treatment Cost?
Treatment cost depends on a few factors. First of all, the centre you choose. Some centres have more amenities and services than others and therefore, will typically cost more. The level of care a specific patient needs and the length of time they need to spend at the centre also play into how much treatment will cost.
Additionally, some health insurance companies cover rehab, while others do not. Furthermore, some insurance companies will only cover rehab at certain facilities for a certain amount of time or up until a certain amount, and you will be required to pay the rest out of pocket.
How Does Detox Work?
Detox is the initial stage of all substance abuse recovery, whether you are dealing with drug or alcohol abuse problems. This is the period of time where all traces of the substance leave your body and is also the time a person typically experiences the worst withdrawal symptoms.
It is important this process is done with the aid of a medical professional and that the person is monitored 24/7 because some symptoms can be dangerous. Sometimes doctors will prescribe various medications during this process to minimize discomfort and prevent dangerous symptoms. Completing detox in a facility also decreases a patient's chance of relapse.
The Importance of Aftercare
Aftercare is a critical component of avoiding relapse as it provides a person with ongoing support and aid to deal with life and long-term symptoms. When you enrol in a recovery programme with us, your treatment isn't just limited to your stay at one of our centres.
We provide all of our patients with 12 months of free aftercare services. Aftercare is any treatment a patient receives after leaving inpatient rehab. This can be with the facility that provided the inpatient treatment or an entirely separate program. Aftercare includes but is not limited to support groups, therapy, and continued medical support.
This includes specifically tailored access to resources, self-help tips, and other support schemes to help you avoid relapse and triggers in the outside world. It also allows you access to a helpline that connects to one of our advisors in case of an emergency. But mainly, aftercare provides you with the confidence and power of knowing that we have your back, even after you leave our rehab centres.